Fast & Free Shipping Canada & USA wide
BENEFITS:
expand_less
expand_more
• Skin-health (acne, wrinkles, scarring)
• Weight Loss (body contouring)
• Recovery
• Increase Energy
• Muscle and Joint Pain
• Psoriasis & Eczema
• Rosacea
• Sleep Optimization
• Libido Boost
• Reduce Inflammation
• Carpel Tunnel
•
Hair Growth
EXTRAS ADDED:
expand_less
expand_more
• Fast & Free Shipping Canada and USA wide
• 30-day Money Back Guarantee
• 1-year Warranty
• 3rd-Party Certified
• FDA Registered CLASS II Medical Device
CORE FEATURES:
expand_less
expand_more
•
High Power Output Device
• Digital Display with Smart Screen
• Concentrated Dual Wavelengths
• Cooldown Mode
• Timer Settings (10, 15, 20-minutes)
WHAT'S INCLUDED:
expand_less
expand_more
• Kala Red Light Device
• Charger and Wall-adaptor
• Easy to Follow User Manual
• Travel Bag
TECH-SPECS:
expand_less
expand_more
• Wavelength: 660 nm (Red) and 850 nm (Near-Infrared)
• Weight 1.32lb (0.6kg)
• LED Quantity: 12x5W LEDs
• Battery Capacity: 10000mA (50,000hrs)
• Dual Power Mode: Battery and USB Charger
• Optical Irradiance: >100 mW/cm2
• Light Output: 5 Watts*12
• EMF Emission is 0.00 at 4 inches
• Certifications: FDA, ROHS, CE, FC
• AC Adaptor: 100-240OVAC 50/60Hz
• Dimensions: 6 inches X 4 inches X 1.5 inches
• Runs 2.5-3 hours on a single charge
• Battery Full Recharging time: 5-6 Hours
• Cool-down Mode: After each 10-minute session the device enters
• 10-minute cool-down period
• Warranty: 3 years
• Return Period: 30 days
TREATMENT GUIDELINES:
expand_less
expand_more
Please see Treatment Guidelines Page in the footer for optimized session details

SAFETY TESTED:
expand_less
expand_more
All Kala devices are designed and manufactured following strict medical device standards to ensure the highest degree of safety, quality and assurance. No other Red Light Therapy at-home light therapy device is safer.
Certifications: FDA, RoHS, CE EMC & LVD, FCC..
Red light therapy is effective because light intake is crucial for our health!
It is essential for our cellular function and energy production, just like water, sleep, and the nutrients from food. Light is a foundational element of our health, however, most people do not get enough.
Kala is committed to educating, innovating, and engineering the safest, most effective light therapy devices in the world.

Red Light therapy is a simple, non-invasive treatment that delivers red and near infrared (NIR) light to the skin and cells.
A high-quality home red light therapy device like a Kala uses light emitting diodes (LED) to deliver red and near infrared light on your body during a treatment session.
When using this type of treatment, an individual can see the red light and feel the therapeutic, warmth from the near-infrared (NIR) light.
Proven. Powerful. Effective.
• Use for 5-10 minutes per day from 6-12" away
• Can be used any time of the day, anywhere!
• Target desired treatment areas
• FDA approved + 5,000 clinical studies
• All Kala devices contain zero flicker and 0 EMF to ensure the safest therapy sessions
your HEALTH IS BETTER
WITH KALA Red Light
ECSTATIC 2,000+ CUSTOMERS AND COUNTING

Backed by science. Proven by results.
Years of acne scarring gone.

I absolutely love my Kala Red Light! I use it regularily after washing my face and years of acne and hyperpigmentation and acne scarring is gone. I am glowing and grateful. My skin is softer and smoother, more hydrated than ever. It feels like I got professional treatment but at home.

Reviewed in Toronto, July 21st 2021

I've been using my Kala device everyday for 3 weeks. My wrinkles have dissapared. I've tried every therapy method under the sun.... I'm so grateful to finally see some amazing results. My confidence is back. Especially as an older women!

Reviewed in the California

July 16, 2020
Canada's #1 Red Light Company
Fast and Free Shipping Canada and USA Wide
Third-Party Certfified & FDA Approved
Products Are Always Packed Carefully With Love ❤︎
Frequently Asked Questions:


Q. Is LED light therapy safe?
Ans: YES! LED light therapy is considered a safe and natural treatment because unlike other therapy lights it doesn't contain ultraviolet rays (UV). As a result it does not cause in burned skin or cells compared to other treatments such as laser therapy, dermabrasion etc.
Q. How long does it take for Red Light Therapy to work?
Ans: It is not an immediate miracle transformation that will occur overnight, but it will provide you with ongoing improvements that you will begin to see in anywhere from 24 hours to 2 months, depending on the condition, its severity, and how regularly the light is used.
Q: Is Red Light Therapy safe to use use on sensitive skin?
Ans: All Light Therapy Options products are approved for all skin types and skin tones. However, if you have any specific concerns, it is recommended that you speak with your physician or dermatologist.

Q: Is red light therapy dangerous for my skin or eyes?
Ans: The light therapy system for anti-aging does not have any harmful UV rays and it will not cause damage to the skin or eyes. The system is safe to use around the eye area as well. Studies show no harmful effects to the eyes when using red light therapy. The LEDs are bright, however; it is preferred that your eyes are closed while using the device around the eye area. Never look directly at the lights when the system is turned on. Optional goggles are provided for your use.
Q: Do I need to take off my makeup before using the device?
Ans: If using a red light therapy device, makeup will need to be removed. Light therapy penetrates below the skin's surface. Many beauty products contain SPF sunscreen, which will block the penetration of the LEDs.
Customer Reviews
05 May 2022
Elvira M.

Canada
Portable Red Light Device
Great product! I love that I can use it on my face and body due to its compact size.
04 May 2022
Bonnie H.

Canada
Do you love the product but it's a little tricky sometimes to turn on. It would be great if it had a stand of some sort so that you can prop it up instead of holding it.
I Do you love the product but it's a little tricky sometimes to turn on. It would be great if it had a stand of some sort so that you can prop it up instead of holding it.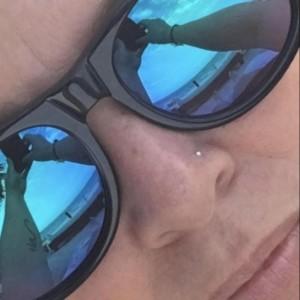 JN
04 March 2022
Jeanni N.

Canada
Soothing light
I love sitting in front of my Kala light. I often use it while listening to a podcast or meditating. I'd love it if it came with a stand so I could prop it up in front of me without a pile of books though. I'd love to get a bigger unit for a more full body experience but this is perfect for the face or specific areas.
04 March 2022
Laurie L.

United States
Love this!
I am so glad I heard about this company and gave the Kala light a chance! It works so well and I've had positive results! I had taken a fall down some concrete stairs on the side of my leg and I could immediately see a bruise starting to form. I used my Kala light on it a few times a day for over a week and the bruise never formed more than the initial coloring. Was really impressed and would highly recommend! Love it on my face as well and how much better I am sleeping when using it before bed. Thanks!
02 March 2022
Erin S.

Canada
Glad I bought it!
I now wish that I had gone with the larger size. I love my kala light and it has helped me a lot with my skin. I also find that it gives me energy in the mornings. I look forward to using it. Thanks!